Especiais GS
Published on October 16th, 2012 | by
461
Metal Gear Solid: do início ao fim?
A série Metal Gear solid é bem mais antiga do que você pensa. Apesar de muitos conhecerem somente a versão MGS para o saudoso Playstation 1 (Psone), o game conta ainda com outras versões mais antigas que a de 1998, como o primeiro game para MSX de 1987 (sim faz muito tempo…você ainda nem pensava em engatinhar quando a Hideo Kojima havia produzido um futuro Blockbuster).
No começo, após seu lançamento, o jogo não vingou e era pouco conhecido, até porque o MSX não era muito conhecido. Então, ele foi relançado para o console Nintendo Entertainment System, que passou por várias transformações e melhorias para a nova plataforma – e nessas mudanças Kojima não esteve diretamente relacionado.
O jogo tinha como protagonista nada mais nada menos que Solid Snake, claro, ainda aspirante a personagem ícone dos games e mero soldado novato que tinha como missão deter um tanque bípede chamado "Metal Gear". Metal Gear Solid foi o pioneiro,o que deu o pontapé inicial para o que conhecemos hoje: os jogos "Stealth", no qual você, ao invés de pegar uma arma de sair atirando pra todo lado, teria que evitar tudo isso e prezar pela furtividade.
Em 1990, a Kojima lançou a segunda versão para o MSX, somente no Japão. O jogo foi aclamado pelos críticos do país, com seu enredo intrigante e sofisticação gráfica, além das muitas reviravoltas na estória e das famosas "Cut-Scenes". Foi também incluída a possibilidade de rastejar e o radar, dentre outros elementos. Com o grande sucesso no Japão, o game só foi desejado mesmo pelo resto do mundo em 2006, lançado junto com o Metal Gear Solid 3: Subsistence.
Metal Gear Solid(PS1)
Em 1998 foi lançando para o o Playstation 1, Meta Gear Solid, estourando em todos os cantos do mundo como um excelente game, sendo o primeiro a ter gráficos 3D e dublagem dos personagens feitas por atores. Essa edição foi uma verdadeira obra de arte eletrônica, com enredo fora do comum que tratava de engenharia genética e armas nucleares. Os gráficos e  a jogabilidade levaram a apenas um caminho: sucesso imediato.
Metal Gear Solid surge alguns anos após seu antecessor, Metal Gear 2: Solid Snake, e dois anos antes de Metal Gear Solid 2: Sons of Liberty, onde uma unidade de forças especiais geneticamente modificada, a FOXHOUND, lidera uma revolução nuclear em uma ilha no Alaska, chamada Ilhas Fox.
As forças especiais que invadem a ilha ficaram com a arma nuclear Metal Gear REX, e estão ameaçando o governo dos E.U.A com um ataque nuclear, caso eles não recebam os restos mortais do "mercenário lendário" Big Boss em menos de 24 horas. Assim você entra na pele de Solid Snake para acabar com os invasores, claro, à sua maneira.
Metal Gear Solid 2:Sons of Liberty (PS2)
No ano 2001,Kojima mostra mais uma vez que sabe o que faz, dando sequência a Metal Gear Solid de maneira quase que perfeita, com gráficos convincentes e jogabilidade ótima, além de uma física muito realista.
Os temas presentes no game eram: memes, censura, manipulação, democracia e natureza da realidade. Em contrapartida, os fãs de Solid Snake não gostaram de  saber que Snake dividirá espaço com um novo protagonista, Raiden. Ele é o quarto (e não o segundo) jogo da série Metal Gear, e logo em seguida "Metal Gear Solid 2: Substance" foi lançado, uma versão do game com alguns extras e missões paralelas com Snake, para deleite dos fãs.
Quatro anos após Shadow Moses, Nastasha Romanenko (conselheira do Codec de Solid Snake sobre armas nucleares) lançou uma coletânea de livros falando sobre o ocorrido no primeiro título. Porém agora, Snake abandonou o governo e trabalha junto com Otacon em uma ONG chamada "Phylantrophy", que tem como função destruir qualquer Metal Gear existente.
Otacon recebe um e-mail relatando o transporte de um novo modelo Metal Gear através do Rio Hudson, onde a Marinha Americana era responsável. Consequentemente Snake vai até o navio Discovery confirmar com seus próprios olhos a informação. O objetivo era apenas confirmar, fotografar o modelo para mostrar ao mundo. Minutos depois de Snake entrar no navio, Revolver Ocelot (especialista em tortura e excelente atirador).
Metal Gear Solid:The Twin Snakes (GMC)
Em 2004 foi lançado para gamecube, sendo apenas um remake do primeiro título de ps1, com gráficos um pouco melhorados(mesma engine do 2) e algumas novas cenas. Se você jogar esse game para entender o Metal Gear Solid 4 você não conseguirá, graças à falta de informações no título original. Se o próprio Kojima ignora esse título,você pode fazer o mesmo pois ela pouco te acrescentará no entendimento da estória.
Metal Gear Solid 3: Snake Eater (ps2)
Deixando o The Twin Snakes para trás, era hora de voltar com Metal Gear Solid 3: Snake Eater (para mim um dos melhores da série). O jogo serve para vermos o "começo de tudo" e se passa na Rússia, no contexto da Guerra Fria. O protagonista é Naked Snake (mais conhecido como BIG BOSS), que tinha como missão resgatar um fabricador de armas e sabotar uma arma experimental.
Para quem estava acostumado com os ambientes futurísticos e fechados, em Snake Eater você deixa de lado o urbanismo e vai para uma floresta soviética nos anos 60, adotando camuflagens e equipamentos úteis, porém nem tão futuristas. Esse game é indispensável pra quem é fã do (agora vovô) Snake.
Metal Gear Solid 3 se passa durante a Guerra Fria em 1964, onde um agente da CIA, de codinome "Naked Snake", é enviado às florestas da União Soviética. Auxiliado pelo rádio por Major Zero, Para-Medic e sua ex-mentor The Boss, sua missão é resgatar um cientista soviético traidor chamado Sokolov, que está secretamente desenvolvendo um tanque equipado nuclearmente, chamado "Shagohod".
Metal Gear Solid 4: Guns of Patriots(ps3)
O que era bom,ficou ainda melhor: o jogo Metal Gear Solid 4 foi lançado para Ps3 em 2008 e ainda é considerado "O jogo" para Ps3. Muitos compraram o ps3 para jogar exclusivamente esse grande título. Logo o após o lançamento, não se falava de mais nada no mundo dos games a não ser do "Old Snake" e sua aparência, agora com cabelos grisalhos e bigode, numa trama cinematográfica, digna de virar filme de Hollywood.
O game se passa em 2014, cinco anos após os acontecimentos em Big Shell (MGS2). Você se encontra em um mundo "virado de cabeça pra baixo", onde a estradada de forças militares em outros países é proibida, aumentando a necessidade das Companhias Militares Privadas para travar guerra de negócios. A nanotecnologia é tão importante quanto ouro para os garimpeiros.
Portanto a missão de Snake é mais simples do que nunca: acabar com Liquid-Ocelot (ironia off) que quer dominar as maiores potências em termo de força militar. Old Snake conta com a ajuda do Otacon e de um mini-metal gear usado algumas vezes para checar os locais de difícil acesso entre outras coisas.
Mas Snake vai voltar em Metal Gear Solid 5 com poucas informações e gráficos impecáveis. O game foi anunciado há pouco e nos resta apenas esperar. Metal Gear Solid 4 continua o legado de uma série que é o pai dos jogos "Stealth" e quem é fã não pode deixar de conferir essa obra de arte em forma de jogo.
Metal Gear Solid: Portable Ops (PsP)
Continuação direta de Metal Gear Solid 3: Snake Eater, o game lançado para psp conta com uma história bastante explorada pelo diretor do game, coisa que muitos duvidavam ter por ser em um portátil, porém Kojima sabe o que faz. Seis anos após a Operação Snake Eater, a Unidade FOX, começou a ser vista pela CIA como uma ameaça à paz mundial.
Snake se torna um alvo da FOX, que envia vários soldados para capturá-lo. E assim se inicia o game, que traz consigo uma trilha sonora sem igual e um enredo cheio de reviravoltas que nos surpreende a cada momento. É uma boa pedida para quem gosta de games de qualidade nos portáteis e para os fãs é indispensável.
Metal Gear Solid: Peace Walker (psP)
Continuação do Portable Ops, Peace Walker foi lançado em 2010 também para o psp, e, um ano mais tarde lançado para ps3, remasterizado e em formato de coletânea, trazendo também MGS2 e MGS3 em um único disco.
O desenrolar da história ocorre em 1974, 10 anos depois dos eventos de Metal Gear Solid 3: Snake Eater e quatro anos após Metal Gear Solid: Portable Ops. Aqui você assume mais uma vez Naked Snake, que agora é conhecido como Big Boss. Quando uma força militar desconhecida ameaça o mundo com armas nucleares invade a Costa Rica, Naked Snake (Big Boss), não fazendo mais parte das forças secretas americanas, juntamente com Kazurira Miller (Master Miller) são contratados para livrar o país desta invasão e por fim ao perigo.
Peace Walker é sem duvida um game e tanto parar adoradores do Snake e não pode faltar na sua coleção.
Metal Gear Rising: Revengeance (Ps3 e Xbox 360)
Revengeance será lançado em 19 de fevereiro de 2013 é tido como "primo chato" que quer roubar a cena, não estando em desenvolvimento pela Kojima Productions mas pela Platinum Games (que até mudou subtitulo do game para "Revengeance",antes conhecido como "Rising").
Deixando de lado tudo o que vimos a respeito de MGS, Revengeance veio para mudar completamente a maneira de jogar Metal Gear Solid, deixando de lado a maneira furtiva e transformando o game em um jogo hack 'n Slash de ação frenética.
O jogo se passa entre MGS2 e MGS4 e o protagonista é Raiden, que agora é um Cyber Ninja,assim como em MGS4, só que mais sofisticado. Pouco se sabe sobre o enredo do game. O que se sabe é que,Raiden presta serviços de segurança VIP, treino militar e outras funções para uma base militar de segurança privada (EMSP) num país em desenvolvimento, que sofre sua reconstrução após uma guerra civil. Mal ele sabe que este palco está montado para um confronto com um enigmático exército ilimitado de ciborgues.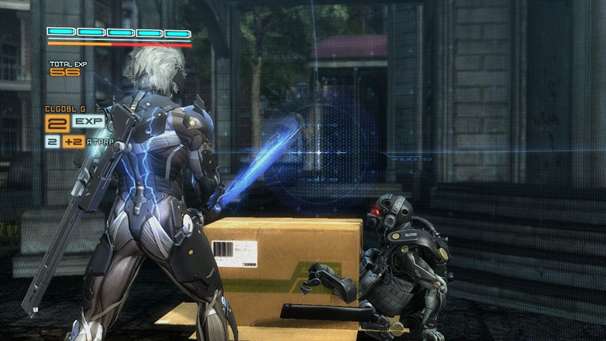 Por fim, é notável a evolução gráfica e de enredo, de modo que sempre podemos esperar um bom jogo da série.
Para você que quer entender direito a história de Metal gear solid, a ordem cronológica dos games é a seguinte:
Metal Gear Solid 3: Snake Eater
Metal Gear Solid : Portable Ops
Metal Gear Solid : Peace Walker
Metal Gear Solid
Metal Gear Solid 2: Solid Snake
Metal Gear Solid (The Twin Snakes)
Metal Gear Solid 2: Sons of Liberty
Metal Gear Solid 4: Guns of the Patriots
Jogando assim você entenderá perfeitamente.
E aí?! qual o seu Metal Gear Solid preferido e por quê ? qual personagem você considera melhor, Snake ou Raiden ?
Comente, deixe sua opinião!